Rockcorry Divers & North Coast Search and Recovery
Recreational Diving Training
Technical Mixed Gas Deep Diving Training
Offshore & Inshore Boat Training
BSAC Qualified Trainers
Rockcorry Diving and it's incorporated organisation, North Coast Search and Recovery, provide Dive Training, Boat Training and Search and Recovery Training in both the Republic of Ireland and Northern Ireland.

Rockcorry Diving Club
Our parent Organisation is based in County Monaghan in the Republic of Ireland.
As well as providing an on-call Search and Recovery service for any type of water around Ireland, Rockcorry Diving provides all forms of Dive Training from Open Water diving using compressed air at depths of up to 30 metres right up to Closed Circuit Rebreather diving at depths of up to 120 metres.
Boat training is another important aspect to Rockcorry Diving and we have modern spec RIBs with the latest navigation systems on hand for instructional duties.
All instructors are seasoned divers and BSAC Qualified.
Northern Ireland Operations

North Coast Search & Recovery
Our Northern Ireland based operation.
Similar to Rockcorry, North Coast Search & Recovery provides an on-call Search and Recovery support service for any type of water around Northern Ireland and Province of Ulster (including Donegal).
Open Water diving training using compressed air at depths of up to 30 metres is carried out in the sheltered Marine Reserve in Strangford Lough.
Closed Circuit Rebreather diving at depths of up to 120 metres is also offered along with organised dives on local shipwrecks.
All instructors are seasoned divers and BSAC Qualified.
Rockcorry Divers & North Coast Search & Recovery conception came from love of water and a passion for deep wreck Technical Diving by the three founding members.
For a period of over 30 years, Frank McDermott, Rez Soheil & Peter McCamley had been diving deep wrecks throughout Ireland, especially Malin Head & Youghal,  and other deep wreck diving locations around the planet.
These locations included the deep wrecks of Bikini Atoll, where the Nuclear Testing Programme was carried out after WWII, The South China Seas where two of of The Royal Navy's largest Battleships, The Repulse & The Price of Wales were sunk following the attack on Pearl Harbour in WWII. We have also been fortunate enough to visit The Solomon Islands and dive the wrecks of  Iron Bottom Sound as well as The Galapagos & Cocas Islands, which offer some of the best "Big Fish" diving on the planet.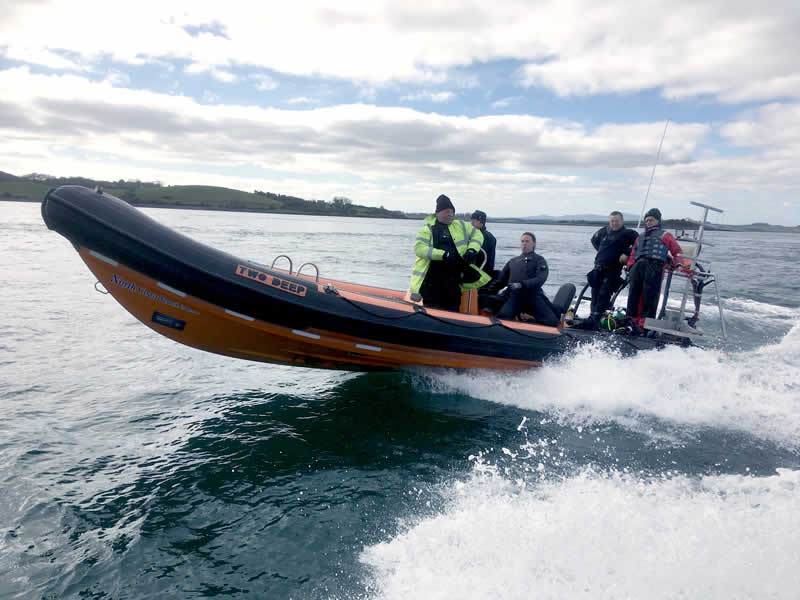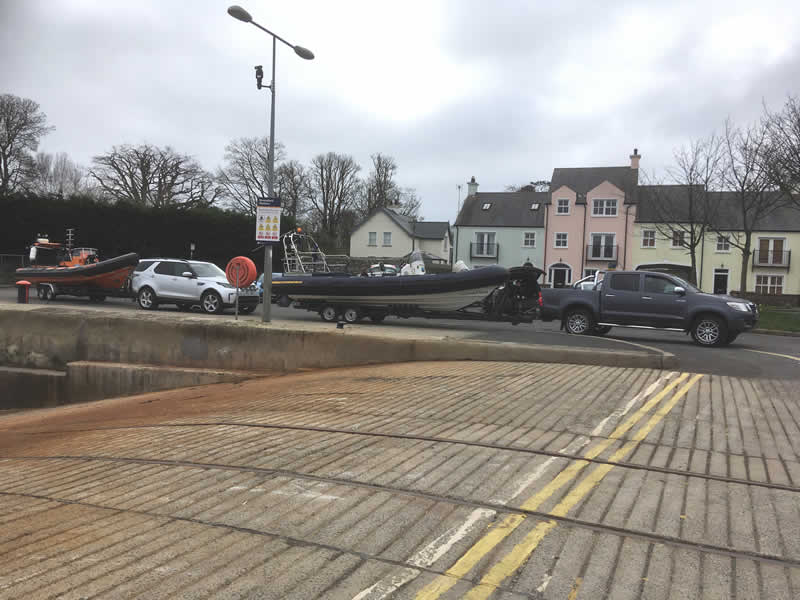 In that same time, when required, we all would assist when required with Search & Recoveries in local counties using our own Redbay / Delta Boats & Equipment.
Unfortunately, rescue is seldom the outcome, however Recovery does bring a closure to someone who has been lost in a marine environment.
Rockcorry Divers & North Coast Search & Rescue (RDNCR) are an inter-community organisation based in Monaghan in The Republic of Ireland, with a facility in Newry, Northern Ireland.
In late 2014,  along with a number of like minded individuals who shared our passion for water & adventure, it was decided that we would form a club.
Since our conception as a Dive Club we have been fully self funded by our members.
In Oct 2020, the Covid pandemic meant all of the swimming pools were closed and dive training had come to a complete standstill throughout Ireland and the UK. Due to fact that we had been approached by individuals who wished to learn to dive, Rockcorry Divers & North Coast Search & Rescue applied to the British Sub Aqua Club which would allow us to teach diving under their banner.  Within 3 days of our application, we were accepted as a BSAC Club and we teach in the sheltered waters of the Marine Reserve at Strangford Lough, on one of the most weather protected dive locations in the UK & Ireland.
Our mission statement is to educate individuals who have a love for water and ensure that when they go boating or diving, they are fully equipped with current information that will ensure that when they go into or on water, that they are in an environment where the risks have been reduced to an absolute minimum.
This can only happen with the correct transfer of information from individuals who have safely and responsibly spent a life time and in some cases in excess of 40 years at sea.
If diving or learning about how to handle a boat is something that you feel you like to know more about, please get in touch.
Peter McCamley – Training Officer
Feb 2021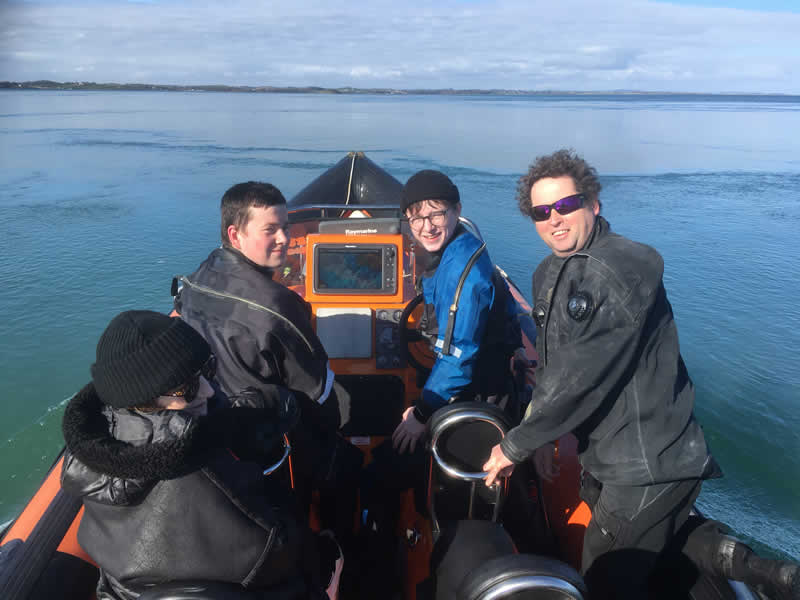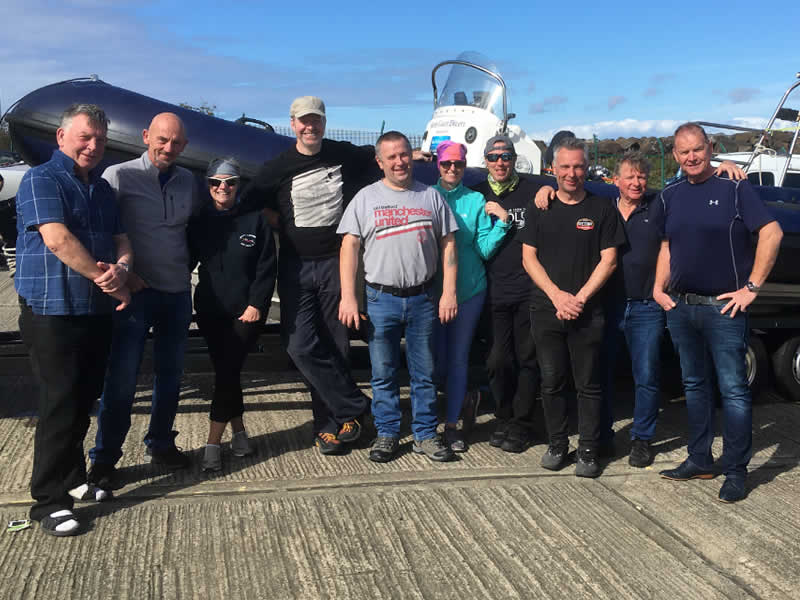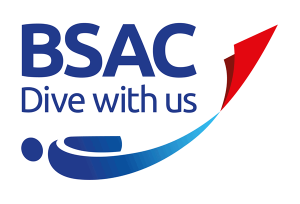 BSAC Certified Training
With three BSAC Instructors within the club we can now teach a number of courses up from Open Water Diver up to and including Closed Circuit Rebreathing Diving.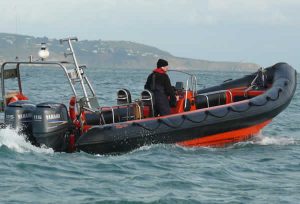 Boat Training
Our instructors are fully qualified to provide training on all aspects of safe boating. From basic handling skills to full navigational skills using the latest electronic aids.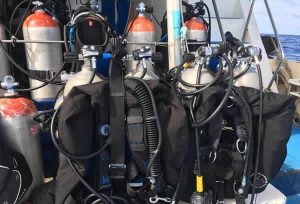 Diving Equipment Training
We provide full training and advice for all levels of diving equipment. Whether you decide to dive at up to 30m on compressed air or technical dive at 120m on mixed gas closed circuit systems we can help you out.
Rockcorry Divers &
North Coast Search and Recovery
Drumloughlin, Co. Monaghan
Ireland H18 AP63
Tel. 00353 85 8646 261
144 Tandragee Road, Newry, Co. Down
N. Ireland BT35 6LW
Tel. 0044 7836 774 694